Northeast Laser delivers fast, competitive laser cutting services. Whether you are looking for a single laser cut prototype part or a complete production run, we provide quality precision laser cutting across nearly all manufacturing industries. We laser cut a wide variety of materials including laser cutting stainless, aluminum, armor plate, titanium and more click at this page.
http://globalytec.com/map109 We invest in technology, equipment and training to set us apart from other laser cutting services. Our state-of-the art Mitsubishi 3015EX laser cutter has a 5' x 10' window and can CNC laser cut mild steel up to 1.00″, tool steel up to 0.500″, and aluminum up to 0.375″ thick. We have a wide range of experience with laser cutting exotic metals such as titanium, Inconel and hastelloy.
We take great pride in providing accurate, quality, on-time delivery of laser cutting services to Ohio companies and also OEM manufacturers across the US and Mexico check this out.
To get an estimate on our laser cutting services, please supply a 3D model or DXF file using our Request a Quote form. We can work with virtually any 2D or 3D CAD files but preferred formats are: click the following article
Solidworks Models (.sldprt)
Autodesk Inventor Models
.IGES
.STEP
.STL
.DXF
.DWG
more info Contact our technical staff to learn more about how Northeast Laser can provide superior pricing and quality laser cutting services on your next project 330-633-2897.
Laser Cutting Services | Sheet Metal • Stainless Steel • Aluminum • Exotics & More
MATERIALS THAT CAN BE LASER CUT:
Mild Steel Laser Cutting
Stainless Steel Laser Cutting
Aluminum Laser Cutting
Tool Steel Laser Cutting
Armor Plate Laser Cutting
Inconel Laser Cutting
Titanium Laser Cutting
Hastelloy Laser Cutting
Brass Laser Cutting
Acrylic Laser Cutting
Wood Laser Cutting
Exotic Metals and Other Materials.
visit web page If you do not see the material that you would like laser cut in this list, please contact us and we'll do the research to find out if it's suitable to be cut with the laser cutting process. Some materials require that we temper then heat treat the metal to make it suitable for high-speed CNC laser cutting. Contact our technical staff at 330-633-2897 to find out more about which materials can be laser cut.
ADDITIONAL SUPPORT SERVICES
http://sah18.ru/?map352 At Northeast Laser, we provide a wide range of fabrication services to support our laser cutting services including:
Prototyping
Production Job Shop
Laser Etching
Secondary Machining
Deburring and Tumbling
Tapping
Bending
Press Brake Forming
PEM/Nutsert Installation
Light Stamping and Embossing
MIG Welding
TIG Welding
Welding of Dissimilar Metals
Fabrication and Assembly
Reverse Engineering of Sample Parts
CAD/CAM Support to your Prints, Drawings or Electronic Files
Contract Additional Secondary Services Such as Coatings and Hardening
Examples of our Laser Cutting Services
We can create laser cut signs or laser cut logos to match your company's font. This piece is a protective covered brushed stainless steel with a custom laser cut logo which was supplied by the customer.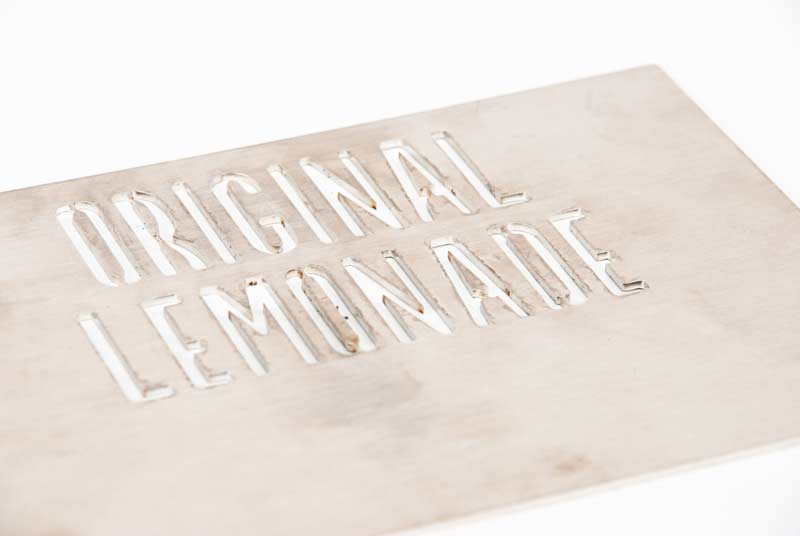 This part features our laser cutting process and press brake forming process as well as machining. The precision forming on the channel was an integral feature of this product.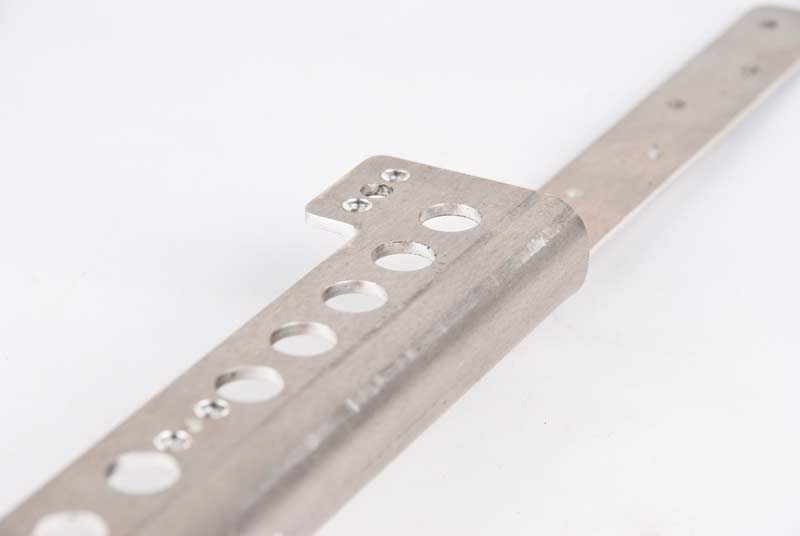 This piece is a great example of our precision laser cutting shop. After it was laser cut, it was powder coated.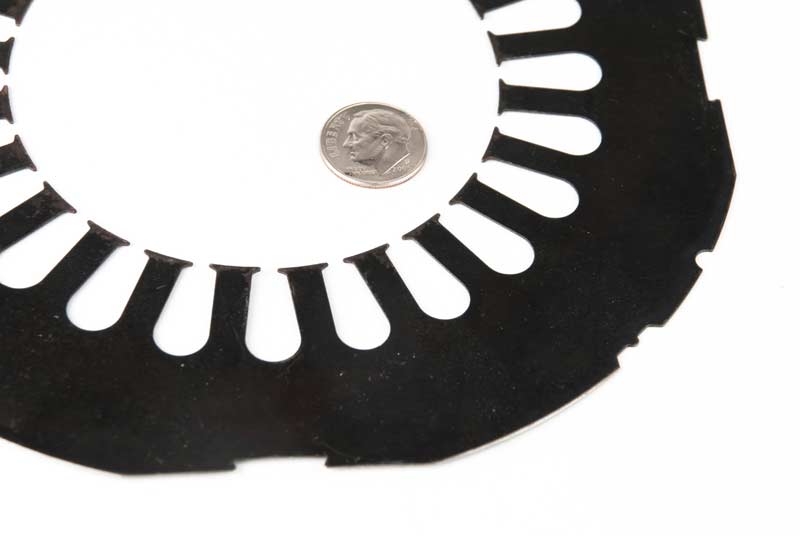 These pieces demonstrate our heavy laser cutting. Thick steel laser cutting requires knowledge and experience. You can trust your laser cutting job to NEL.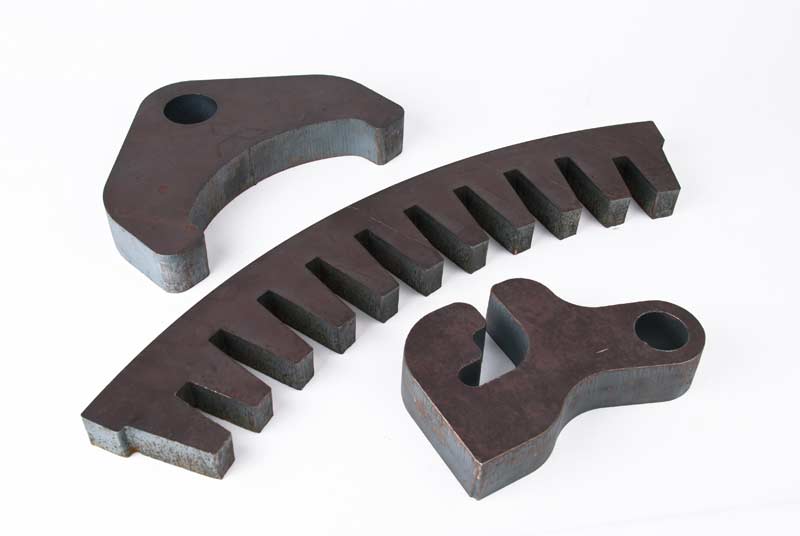 This lock positioner is laser cut 16 gauge steel. Our laser cutting company is your number one choice for prototype manufacturing and production jobs in Ohio.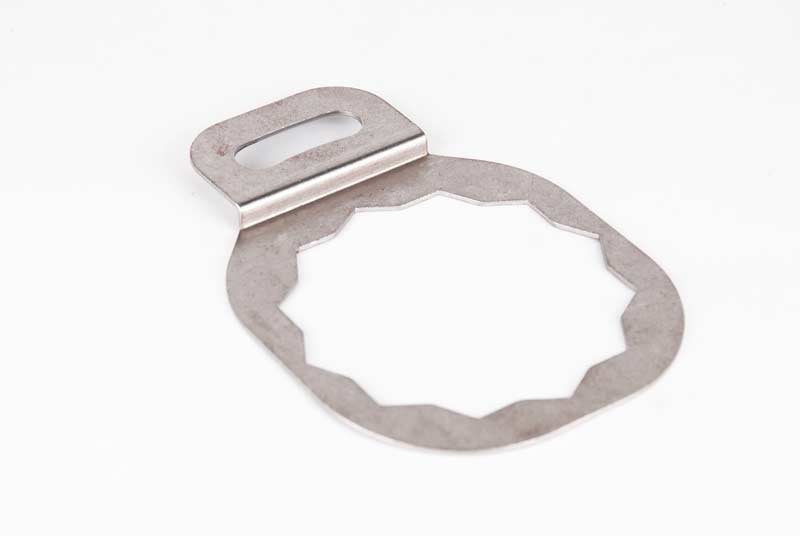 This part was created for the transportation industry and features our laser cutting process and press brake forming process as well as machining. The precision forming on the channel was an integral feature of this product.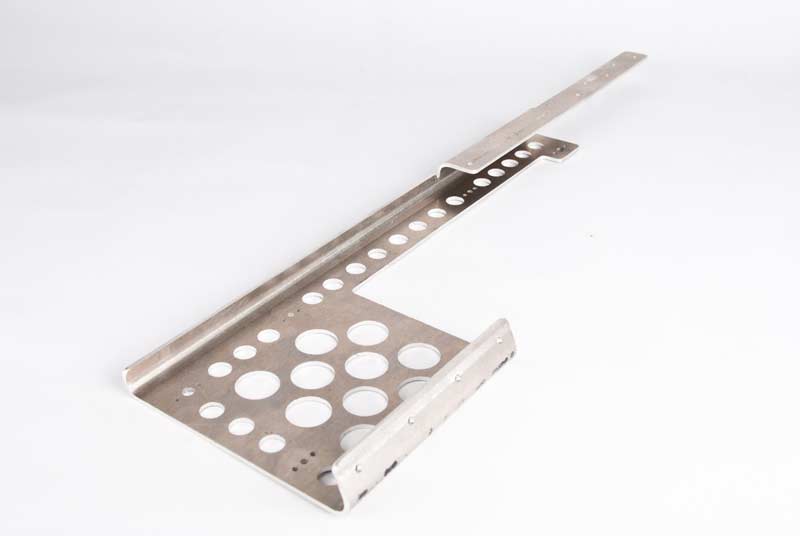 This laser cut piece was created using the laser cutting process, press brake forming to create the bends and gussets and powder coated.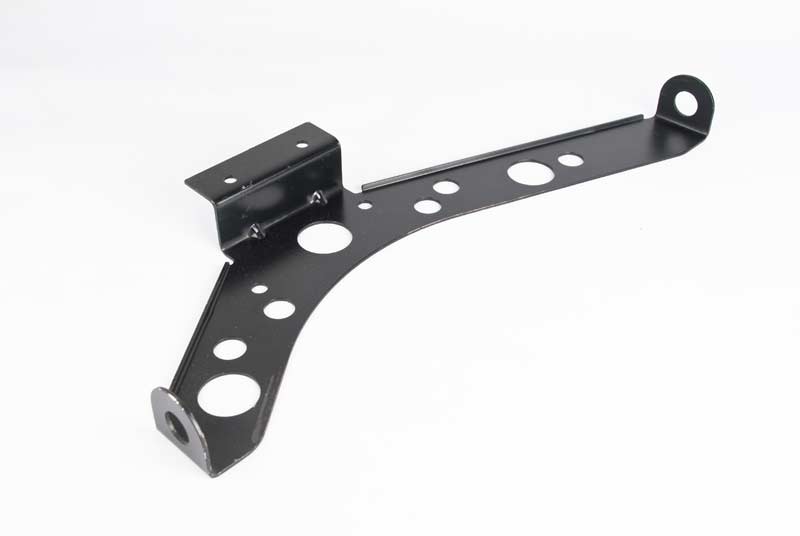 Custom motorcycle brake rotor. The cardboard prototype was created first to test the fit, and final production piece features a laser cut profile and detail, ground finished, heat treated, steel.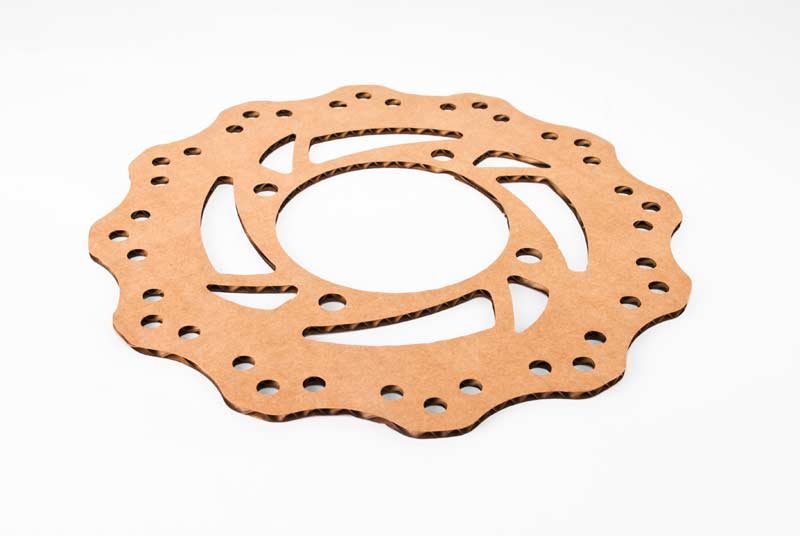 Prototype example pieces. Laser cut holes smaller than thickness of material. A demonstration of laser cutting precision.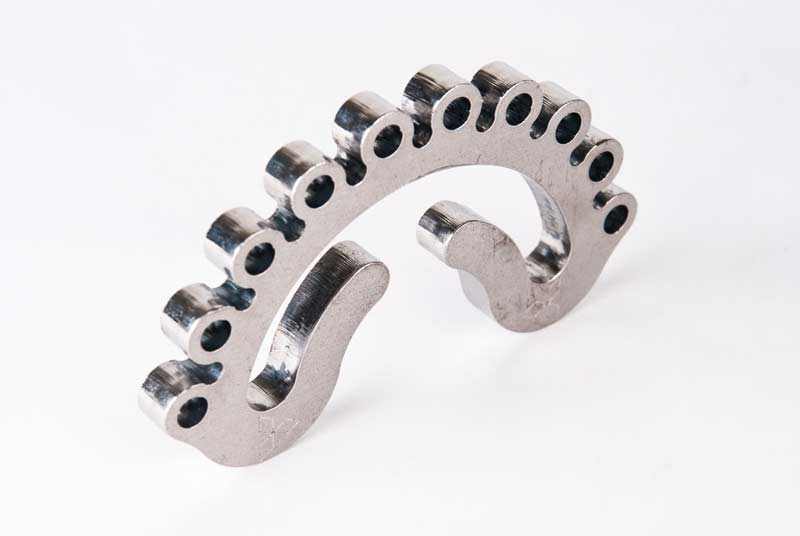 Precision laser cutting is our specialty. This piece features a small, laser cut tooth in mild steel. The precision, small laser cutting is demonstrated by the dime in the image.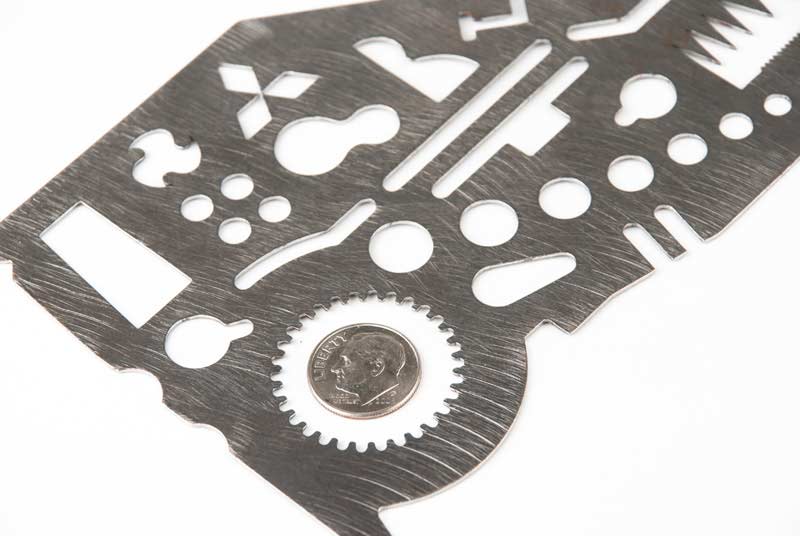 11ga. laser cut part with approximately 1 1/2" draw produced complete in house.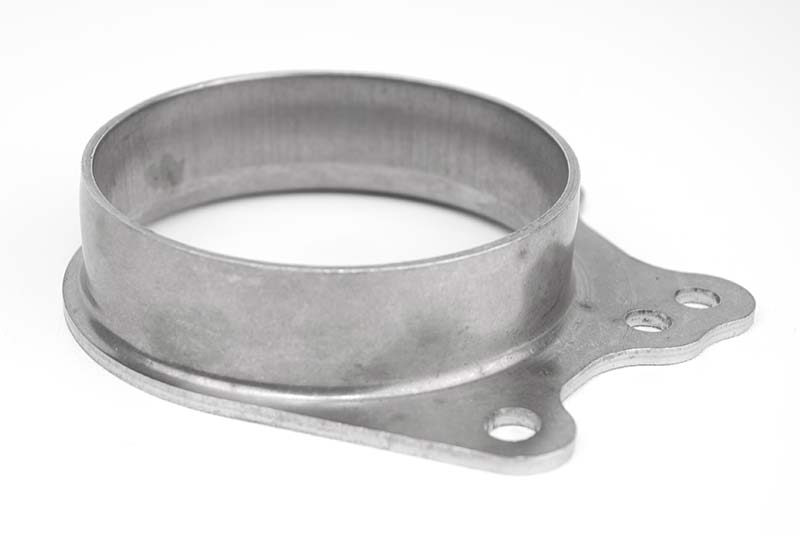 Mild steel laser cut and formed with gusset bends.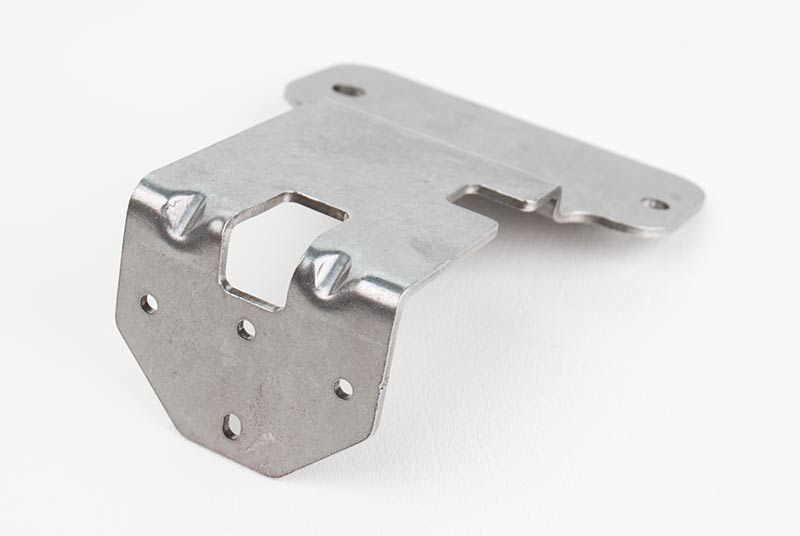 Sheet laser cut and form with custom extruded hole.